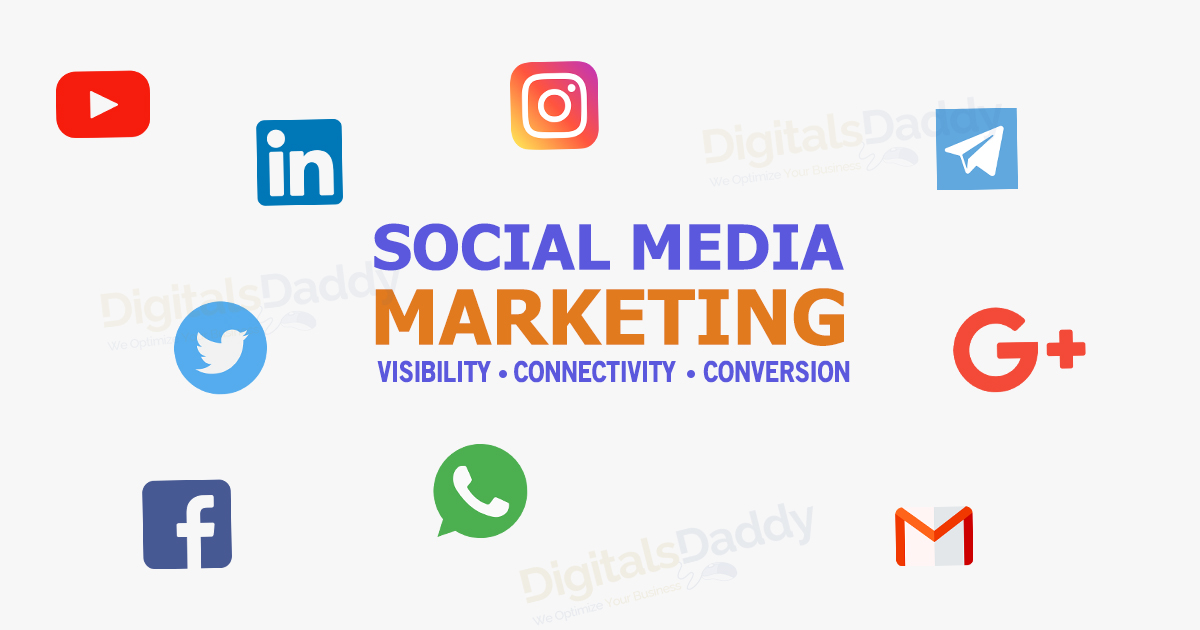 Visibility
Connectivity
Conversion
OVERVIEW: WHAT ROLE IS PLAYED BY SOCIAL MEDIA MARKETING?
Social Media Marketing works as the secret ingredient to the recipe of a successful business. When done properly, SMO (social media optimization) can prove to be beneficial for your start-up and SMEs in many ways. Social Media presence solves a lot of customers' concerns about a business, and provides them with a company they can put their trust in, all this becomes possible with our social media marketing services.
Digitals Daddy, one of the best digital marketing companies in India, commits to give you guaranteed results and that is why we are your one stop destination for all your Search Engine and Social Media Marketing needs.
Importance of Social Media Marketing
When you think from a customer's point of view, the first thing that builds your interest in any business is their visual aesthetic and the creativity level of the content to enhance the level of attractiveness. The best place to showcase your company's business aesthetic is social media, where you can post absolutely anything!
WHY DO YOU NEED SOCIAL MEDIA MARKETING SERVICES?
Social media acts as a source of web traffic in bulk if used properly.
It is a means of online advertising on various social media platforms.
Gradually, with social media marketing strategies, your company will reach millions of viewers.
It's a must if you're a start-up and if you want to popularize your brand and product.
If your customers have seen positive feedback, regular activity, and engaging content on your social media handles, they'd be more inclined to give your products a try.
Digitals Daddy specializes in providing both organic and paid marketing campaigns to our clients. Organic Social Media Marketing involves using inbound customer reviews and gained followers to further popularize your brand. Paid Social Media Marketing involves collaborating with already popular pages on various Social Media Platforms and then gaining benefits symbiotically.
HOW WE WORK WITH SOCIAL MEDIA MARKETING?
We pay influencers or give them some products, which they then review and promote on their respective social media accounts. This builds a trusted base for their followers and the followers will become curious, which will cause them to make an effort to get to know about your business.
WHAT ARE THE BENEFITS OF AVAILING SOCIAL MEDIA MARKETING SERVICES?
Social Media Optimization (SMO) enhances your brand awareness and is a push forward for your business in the customers' eyes
A fair social media presence helps your brand get a higher search engine ranking that our social media advertising and digital marketing agency aims for.
Social Media Marketing services enable you to choose a target specific audience, and a lot of Social Media websites have an inbuilt program to help you achieve this. Social media presence helps your brand get a higher search engine ranking.
An active Social Media presence enables your customers to directly interact with the business and form a close relationship with the brand.
Servicing Social Media Marketing for start-ups is an exceptional option that we offer because social media is a platform which can be used for both free and paid advertising.
Brand awareness is an important aspect of building a successful business and Social Media Optimization fulfills the exact requirement.
Start-ups can build a rapport with influencers by collaborating with them and giving them freebies in return for promoting your products.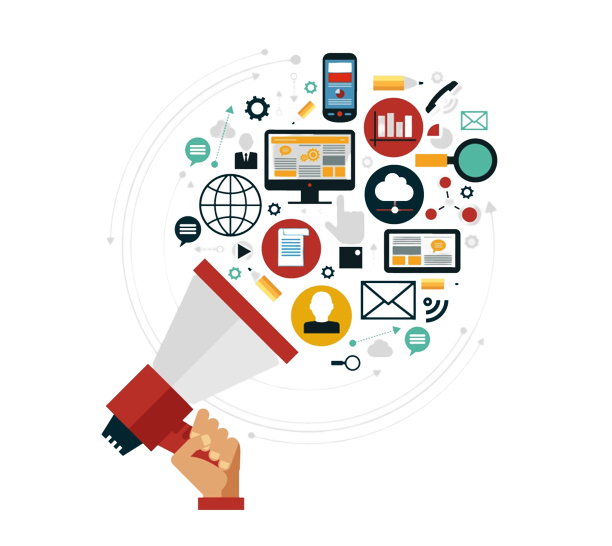 Social Media Optimization is an online marketing strategy that is cost effective as well as efficient. If you invest in SMO, you will see guaranteed growth and results.
Talking about reliability, Social Media Marketing taps a well-maintained Social Media profile and increases the reliability of the brand. When your customers will be able to find you virtually and know you're digitally and socially active, it builds trustworthiness.
Investing in Social Media Optimization services will drive more inbound traffic to your business website. This is especially recommended for start-up businesses, and also it is quite reliable.
It is important for any brand to have a set of loyal customers. This depends directly on the number of followers on your social Media page. When used correctly, SMO can turn followers into loyal customers.
Social Media Optimization is a great tool if you want to increase customer satisfaction. Engaging your customer base is a sure shot way to accomplish that.
Using Social Media platforms for the promotion of your business pages gives you the option of getting Marketplace Insights. This is a great way to look into their needs and demands of your prospective customers and provide them with what they would accept readily.
HOW WE USE SOCIAL MEDIA AS A MARKETING TOOL?
We create a Social Media Optimization strategy personalized for your brand and smartly implement it.
Our SMO techniques will boost your virtual presence and bring in more traffic to your website.
We use Social Media Marketing services effectively to bridge any gaps between your customers and the products, giving the customers a chance to know your business and products intimately.
Digitals Daddy is a Social Media Optimization Company which makes complete use of all the Social Media Marketing services and tools in order to give your customers a more extensive understanding of your products.
We help you promote your products through reliable sources and in turn gain your customers' trust.
Digitals Daddy will set up attractive and engaging social media profiles on Facebook, Instagram, LinkedIn, Twitter, Quora, Tumblr and other similar websites which will bring in the required traffic and engagement.
At Digitals daddy, we make sure that all the content posted on your social media profiles is 100% plagiarism free, original and created specifically for each post in a unique way.
All the content posted to social media profiles is written and created keeping in mind the latest trends, hashtags and viral posts.
We can use Social Media to redirect traffic and to your business page. This increases your ad-based revenue and brings attention to your main business site.
WHAT ARE THE TECHNIQUES USED BY DIGITALSDADDY?
Social Media Accounts Set-up and Configuration
Social Media Accounts Customisation
Multi-platform utilisation like Facebook, Instagram, Twitter, LinkedIn, Quora and many more
Blogging
Social Media Integration Strategies
Social Bookmarking
Viral Marketing
Social Event Marketing
Online Product Reviews
RSS Feed Promo
Audio-Video Sharing
Targeted PPC Campaigns
Link All Social Media Accounts
Social Profile Listing
Photo Sharing
At Digitalsdaddy, a social media advertising and digital marketing agency, we aim to utilize the maximum advantage out of social media marketing strategies for the success of your business.
So, What Are You Waiting For? Join Digitals Daddy Today!