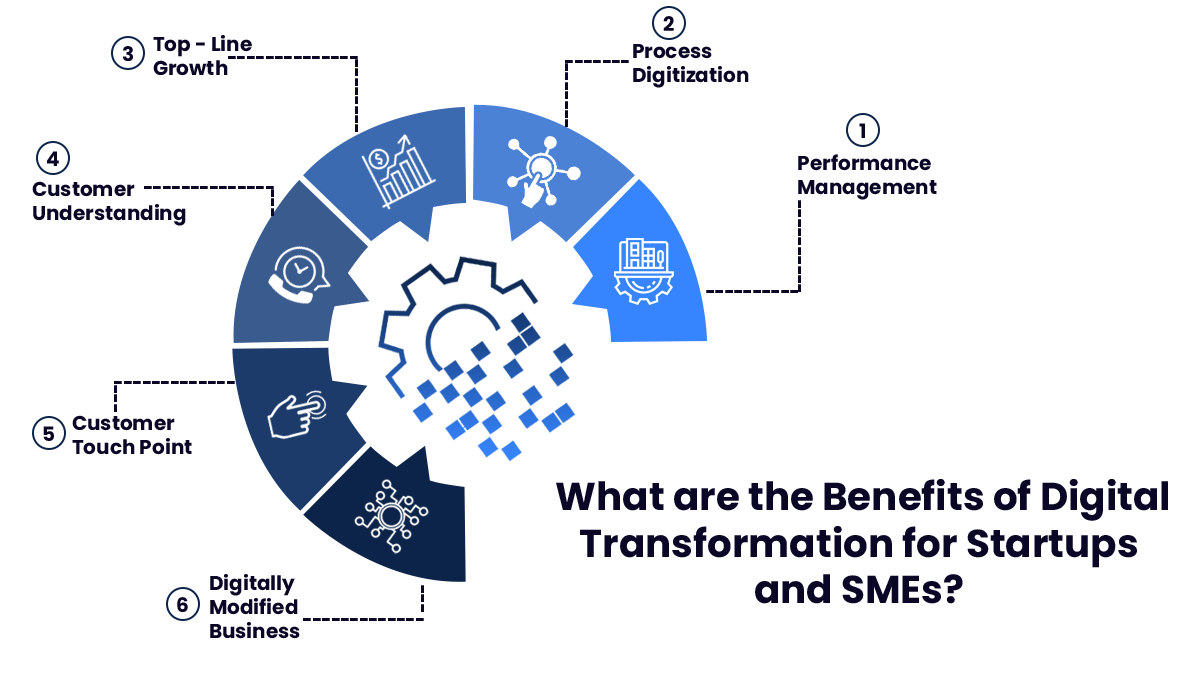 What are the Benefits of Digital Transformation for Startups and SMEs?
Digital Transformation for startups and SMEs offer a great opportunity to leverage technological advancements and gradually achieve great breakthroughs of success. There are a myriad of ways that digital transformation can help reshape businesses to improve efficiency and customer experience. So, digitalization is hugely beneficial for startups and SMEs. Some of the benefits of digital transformation for startups and SMEs are as follows:
1. Digital Transformation Increases Revenue
Revenue makes up the heart of a business. The higher the revenue, the more your business will grow. A significantly huge impact is seen in businesses after digital transformation, especially when it comes to revenue. Startups and SMEs that adopted technology and digitalization showed high profitability.
The results of many enterprises that incorporated digital transformation shows that the profits of online business and offline business revenue grew to a large extent. These stats clearly prove that digital transformation for SMEs and startups bring excellent outcomes, especially in terms of revenue.
2. Digital Transformation Provides Automation to Improve Efficiency and Accuracy
In our fast-paced business minded world, automating manual tasks has become extremely necessary for businesses to manage important data to enhance efficiency, eliminate human errors and achieve better accuracy. If you're wondering how digital transformation for startups and SMEs can help your business, the answer lies in digital tools that make workflow much better by efficiently managing tedious, repetitive tasks and business processes.
Whether it be data collection, maintaining your employees' attendance record, task management, calculating salaries, updating customers' data, managing inventory, or automating your email and marketing campaigns, you will find useful tools and digital techniques for automation and business management and achieve optimal organizational efficiency.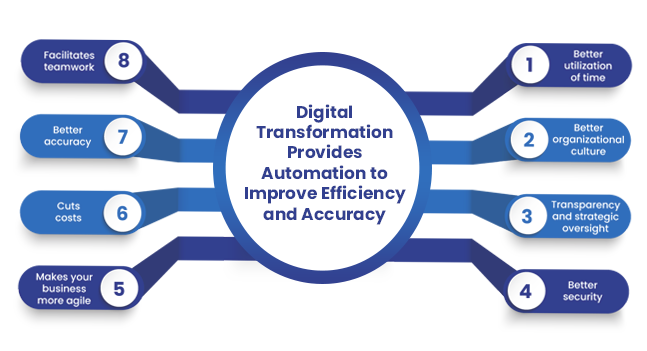 3. Digital Transformation Helps You Make Data-Driven Decisions
In today's digital world, every business strives to stay ahead of the competition. Businesses that use big data have proven to develop powerful results-driven strategies for their organization. Collecting customer data can help enterprises make data-driven business decisions.
As you collect customer data, you get a better sense of what your customers want and don't want and you can make changes to your website or marketing campaigns accordingly to fulfill your customer expectations. With digital transformation, there is a wide array of analytics tools such as Google Analytics that can immensely boost online businesses and help them develop customer-oriented business strategies, track the performance of their websites, email campaigns, and advertising campaigns.
Such tools use AI-based technologies and machine learning to process and analyze a huge amount of data. SMEs and startups will do really well by investing in such tools to make effective data-driven business decisions and develop better business strategies.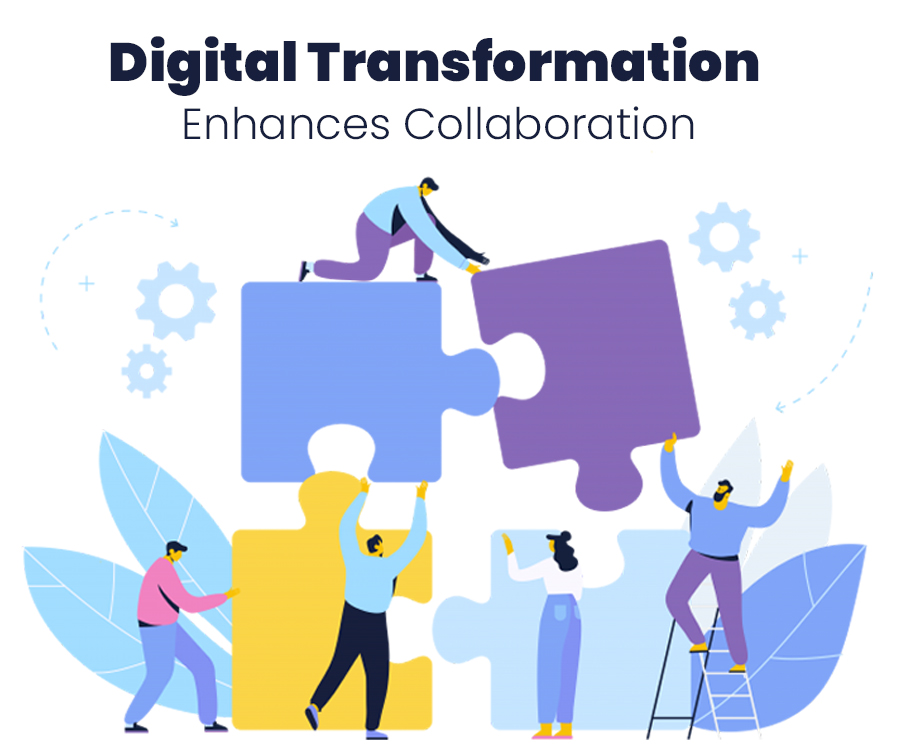 4. Digital Transformation Enhances Collaboration
A major goal for using digital transformation is to enhance operational efficiency and prioritize customer-centric business strategies. This will only be achievable when each and every employee gets on the same page and is able to seamlessly collaborate.
For instance, if you run a web design company, it's crucial that you involve your designers, developers, marketers, and product managers so that all of them can work better together and take initiatives. Doing so will ensure that the internal departments are adequately linked and collaborate effectively.
When everyone collaborates and works together, it promotes workplace transparency and increases employee engagement and satisfaction. Slack, ProofHub, GoToMeeting, etc. are some popular collaboration tools small businesses can use.
5. Digital Transformation Improves Customer Experience
In today's digital age, delivering amazing customer experience is key to achieving success. Today's customers want a quick, hassle-free and seamless digital experience, personalized treatment, and intuitive user interfaces. Such customer engagement requires a complete redesigning of various areas of a business, starting from finance to IT to marketing.
Businesses that realize the importance of digital transformation will be able to form a better connection with customers and thus, secure greater profit. Large corporations prioritize fulfilling customer expectations and incorporate the latest technologies to do this. Likewise, small businesses will thrive in the competitive market by offering excellent customer experience.
Data analytics, machine learning, automation tools, cloud-based solutions, and various other digital technologies allow businesses to use customers' data, analyze and predict customer needs, curate personalized customer experiences, and improve customer engagement and satisfaction.
6. Digital Transformation Expands Small Businesses With Higher Customer Base
Limiting your business to offline marketing is a poor move in today's increasingly digitized world. Incorporating technology and building a good online presence leads to better opportunities for SMEs and startups and amps up their game in not only local, but global markets as well.
Increased digitization opens new opportunities for small businesses and allows them to explore new markets, thus enabling them to compete with large corporations in the industry.
For instance, in the case of ecommerce platforms, digital transformation helps them go beyond geographical boundaries by providing better customer experience and organizing better supply chain solutions. This allows companies to make sales 24/7 and rapidly increase their customer base with less operational costs.