As such, you can clearly see that digital marketing is highly crucial in closing the gap between your finance company and potential customers. By leveraging client-centric strategies,your finance company can better educate consumers not only about your brand, but also how they can attain a better financial future.
What Content to Create for Your Finance Company?
Content marketing enables your finance company to frame its expertise and demonstrate why consumers should rely on your financial services over your competitors. Your social media marketing must not only prioritize creating brand awareness, but should also address any frustrations your audience experiences. How can your financial services provide better solutions to their issues compared to other competitors in the market?
For instance, when it comes to millennials, a huge portion of this demographic believe in the importance of financial literacy, with books about financial knowledge rampant in the market these days. As such, it'll be great for your finance company to address this. You can share relevant stories on social media that show how you helped a customer become knowledgeable about their finances, overcome their challenges, and grab new opportunities. We recommend using various types of content, such as:
Podcasts
Blog posts
Email
Short videos
Your content marketing strategy must have a cohesive tone across multiple channels. Your finance company will need to craft a strategic plan that leverages available data to ensure that you target your desired consumer through the right channels.
It's important to note that building custom trust and loyalty is an incredibly critical factor and can make or break your finance company's image and reputation. Clients should be confident in entrusting sensitive data and their finances to the right company.
Digital Marketing Strategies for Finance Company
When we talk about digital marketing for finance company, we definitely can't leave out a discussion about strategies. Here are some of the most useful ones:
Incorporate Email Marketing
Although email marketing is one of the oldest forms of digital marketing for finance companies, it is still a major competitive strategy for lead generation. Rather than neglecting this strategy, leverage the data you collect from your marketing team, and develop a solid email marketing strategy. Start by determining who your target audience is, segment it based on certain criteria, and create personalized strategies for each group. This will gradually help your finance company improve customer engagement.
Social Media Marketing
Another key strategy in digital marketing for finance company is social media marketing. Most people use at least one social media platform. As such, it should be an essential part of your digital marketing roadmap. For finance companies, social media marketing is a lot about forming connections with customers. With a strong social presence, your finance company will generate more leads and grow your customer base. By posting meaningful and relevant content and success stories, you'll attract and be more relatable to your audience, and some of them will become your repeat customers.
Content Marketing
Content marketing is one of the most powerful strategies to leverage for your finance company. It's best to develop a clear content strategy, optimize it frequently, and have a clear focus on what you want to achieve. Blog posts about financial literacy are a great idea to educate your audience, target large groups and attract new potential customers. Your blog posts could be about how to apply for housing loans, obtaining stocks, interest rates at banks, credit score, etc. Such relevant financial content, along with a robust SEO strategy could help drive your website and blogs as some of the first results to show up on search engines when people google these topics.
Personalization
Your digital marketing strategy for finance company must include personalized product recommendations and offerings using big data. Large tech companies such as Amazon already do this, but small retail banks and credit unions could do the same.
This personalization strategy can take a longer time to implement and produce results. Your finance company has to first conduct A/B testing and other experiments for audience testing. Once you get an idea of what your customers want, you can segment them into particular customer groups. Then, with the help of marketing automation and AI, you can provide individualized and personalized experiences.
Leverage Multiple Ad Formats
Google and Facebook have taken the world of digital advertising by storm. Be it website conversion ads, carousel ads, or lead generation ads, there are different options for financial firms and banks to choose from. There's also the option to use creative images and videos to attract audiences.
With Facebook advertising, you get access to very detailed audience targeting, including location, age, interests, content consumption, online behavior pattern, etc. You can also easily target users who have previously clicked on your ad or visited your website for quality leads. And with Google ads, they show up on Google searches when potential customers search up relevant keywords on search engines.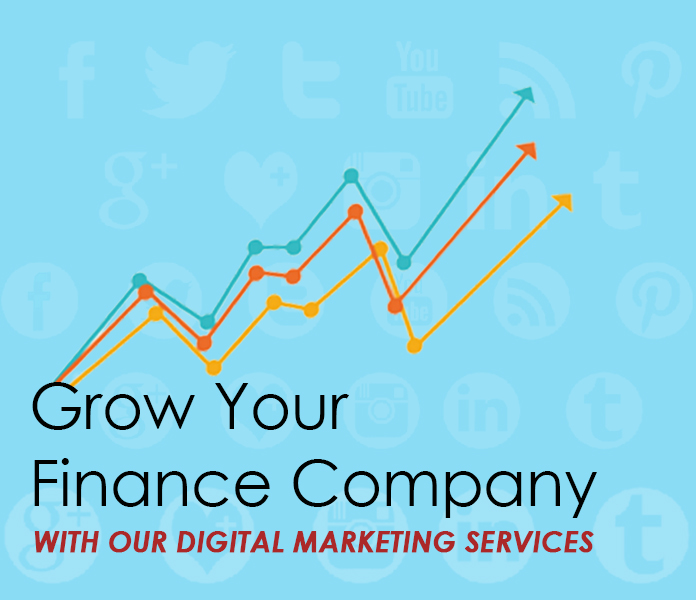 Grow Your Finance Company With Our Digital Marketing Services
Finance companies need to stay updated with digital trends in order to stay relevant and competitive in the market. Are you looking to learn how to develop a financial digital marketing strategy? Then, it's best to hire a full service digital marketing company and leverage their services and technology to improve your lead generation, enhance customer experience and boost ROI. And that's exactly what we at Digitals Daddy can do for you! At Digitals Daddy, we can review your existing strategy and optimize it for better results. Talk to us and unlock your finance company's full growth potential!