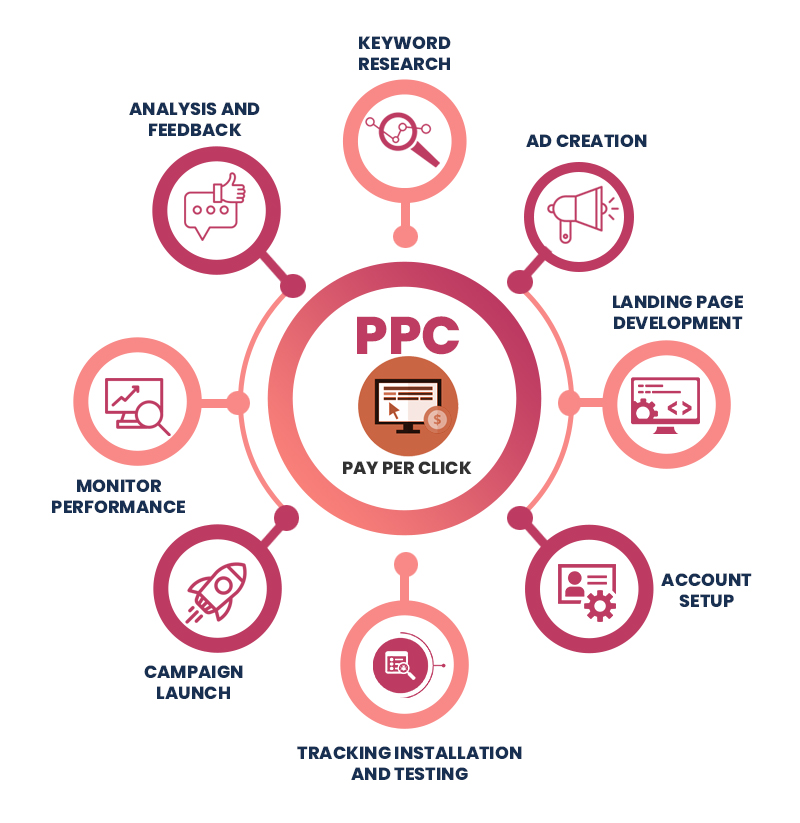 Who doesn't want attention to their business and making it profitable? What efficient technique comes to your mind when you think about increasing the reach of your business?
I assume you are on the right track if you are thinking about PPC advertising. As the digital world is booming, we hear some of the marketing terminologies a lot, like pay-per-click, Google advertising, social media advertising, search engine advertising, display advertising, guerrilla advertising, mobile advertising, etc. But, we are specifically going to focus on PPC advertising today. And, if you have landed on our page, then you are on a quest to find ways to take your business to the next level with the help of pay-per-click.
This is a method of online marketing where ads are placed in strategic places online and advertisers pay a fee only when the ad is clicked by a visitor, hence the name pay per click. It's a way to buy visitors rather than attract them organically to get traffic to your site. On social media, the ads can appear as posts on the feeds, banner ads on the side, and with a variety of other firms on the same page.
The paid ads are up top and labeled, as set organic results are the ones underneath. Today, platforms such as Facebook, Instagram, YouTube, LinkedIn, Bing, Flipkart, Amazon, and even Pinterest have options for paid advertising. This is the world of PPC advertising.
Before digging further to find out more, first let me introduce what makes Digitals Daddy unique. And, why reach out to Digitals Daddy for Digital Advertisement and PPC advertising?
Because we call ourselves risk-free as we provide services on the terms and conditions written below:
Situation – 1: If the target meets less than 80% and greater than 70%, the service cost will be reduced by 10%.
Situation – 2: If the target meets less than 70% and greater than 50%, the service cost will be reduced by 30%
Situation – 3: If the target meets less than 50% and greater than 40%, the service cost will be reduced by 50%
Situation – 4: If the target meets less than 40%, the service cost will be reduced by 60% and you will be entitled to revise the proposal or terminate the agreement.
Let's understand the ad auction with an example:
Imagine four advertisers competing for space on the search research page. Each one has indicated how much they are willing to pay for someone to click their ad and visit their website.
Advertiser A bids $4, Advertiser B bids $3, Advertiser C bids $2, and Advertiser D bids $1. You might think that the highest bid is $4 would automatically win this auction, but a high bid is not guaranteed because people searching on Google see the ad most relevant to their search. Imagine if bids were the only consideration in the auction, then you might see an ad for shoes triggered by a search for insurance. To provide the best user experience, the ad auction considers three main factors:
Your bid: In Google ads, the maximum amount you are willing to pay for your ads counts as the bid.
Quality of your PPC ads: This is the quality score, relevance, and usefulness of both your ad and the website it is linked to. An ad's quality score includes three components. First is the expected clickthrough rate or CTR. This is the prediction of how often your ad will be clicked when shown. Based on historical performance data, Google has information for every search query. Second, your ad relevance. The language of your ad is analyzed to verify it with the matching keywords. And third, your landing page experience. Your ad is only useful when people click it if it helps them find what they are looking for. A landing page should have relevance and original content which is easy to navigate for the best user experience. The important aspect is how you plan to utilize the user's personal information.
The last factor is the expected impact of your ad extension and your ad formats. When creating your PPC ad, you have the option to add additional information to your ad just like contact details, or specific pages on your sites. These are called ad extensions.
Conclusion
In the end, the greatest benefit of PPC advertising Digitals Daddy has to offer, is that it helps websites to get the attention it deserves from the people who will appreciate them most.