Digitals Daddy is an SEO (Search Engine Optimization) Agency, and it works to take commercial success to the top level and transform your aims into reality. Our experienced SEO professionals will lead the SEO marketing program for the entire business. As an SEO agency, we know the vision of what a business needs to succeed? All you need to do is coordinate with us and our SEO marketing experts, who will help to achieve your goal through our online SEO services.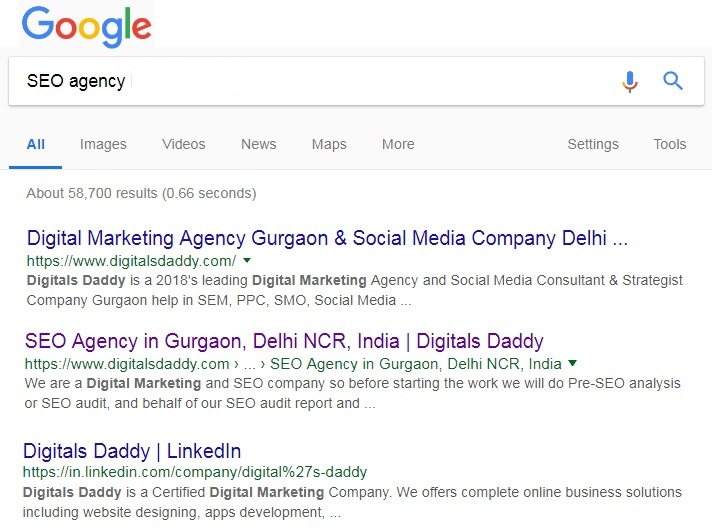 As a successful SEO services providing company, we will handle the responsibility for both SEO strategy and execution, and we will work closely with your marketing team for the success of the entire digital marketing campaign.
In 2021-2022, SEO is fully dependent on the content marketing strategy so our first process of organizing your website's content by categories and by topic, which helps search engines program like Google robots understand a user's intent when searching. We will optimize landing pages around topics first, such that your website can rank well for long-tail keywords. SEO is an amazing marketing tool but you need SEO strategy experts to utilize it. And we are here to provide the same.
HOW DO WE UNDERTAKE SEO OPTIMIZATION?
We are a Digital Marketing agency and SEO service providing company so before starting the actual work we conduct a Pre-SEO analysis or SEO audit, and on behalf of our SEO audit report and marketing goal we develop the SEO plan and strategy.
What Main Steps We Adopt in SEO Optimization?
They are listed below:
Build a roadmap of SEO marketing strategies and tactics to drive sales and traffic.
SEO Competitors analysis and comparisons – where we now?
To create and implement the SEO strategy for on-page & off-page optimization.
We will develop the link building plan for Website and landing pages
To develop the content marketing strategy with editorial/content teams for content creation of product and services.
To create strategies to drive traffic to the website.
Tracking conversion rates and does needful improvements to the website.
Tracking and monitoring SEO performance and recommend the new strategies.
Develop the dashboard for Monthly or weekly reporting including Traffic, sales and ROI.