My name is Sanjay Kumar. I have more than 10 years of experience into the Digital Marketing. I have been working as a Digital Marketing Consultant with Digitals Daddy since 3 years.I Create & Implement strategy to drive brand awareness, sales of company's products & services across all digital channels. Manage digital analytics to set benchmarks, track success & refine strategy for website, mobile, social, content and search.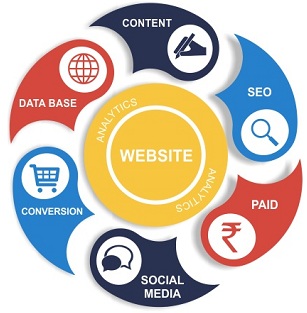 I not only optimize the marketing campaign but also provide for SME & Start-ups:
ORM Consultant (Online Reputation Management): Enhancing Visibility & Connectivity on Social & Search, Removing and Hiding abuse reviews & complaints on Social and Search.
Brand Strategy Consultant – Brand Architecture & Designing, Brand Transformation, Culture Alignment and Structure Design
Digital Marketing Consultant – Plan with detailed project report including Objective, RIOT (Returning Investment on Time), Market Survey, Resource Management & Operational Risk Management.
Balancing the utilization of resources with a focus on revenue and profits.
Collect market data and information on current trends and latest development in the industry
Keeping track of competition activities and developments in the industry and helped top management in formulating marketing strategies by providing the right inputs

PPC Advertising Channels Exp.: Adwords (Search, Display, Shopping, Mobile, Remarketing), Bing, Yahoo, Facebook, Instagram, Twitter, YouTube, LinkedIn, 7search, Traffic Vance, Taboola, etc.
Tools Exp.: Google Webmaster, Trend, Keywords & Google Analytics with Experiments of A/B Split testing, SimilarWeb, Alexa, SEOMoz, Whois SEMRush,
Hootsuite, Google Analytics, Noble System, Moz, Mail Chimp & Nimbus, Woopra, BaseCamp

SEO: – Guaranteed 80% to 90% Keywords Ranking on Google First Page
Coordinating with content writers and maintain Quality standard
Interacting with Programmers and Designers to create User & SEO friendly web site
Providing Site Structure, Site Navigation, Content Organization and Page Details
Develop Content Strategy Documentation around Keyword Themes
Monitor, Track and Report on Google Analytics Metrics
Keywords and Off Page Assets Research & Analysis
Research and Analyze Competitor & Comparison
Back Link Strategy and its Implementation
Website Internal Search Optimization
Develop MIS dashboards for tracking & reporting of all campaigns

SMO (Social Media Optimization): Online Popularity & Reputation Management
To working experience on Social channels to increase the Brand and Products popularity. Develop the plan and the parameters for the corporate social media strategy. Determine objectives, establish what needs to be accomplished and define how it will be done. Manage both good and bad things posted by people about a company online reputation.
Designing Profile & Brand pages
Educating Customer/Users using Audio/Video, Banner, animation info-graphic & content
Social Bookmarking
Social Networking
Publishing Social News
Q&A, etc.
There are many digital marketing agency and consultant available in the market but you hire carefully.